Various Artists "Chicago / The Blues / Today!" 1966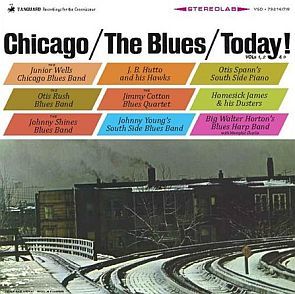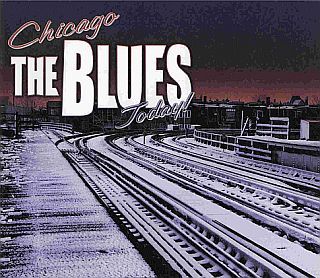 Lorsque je suis alle a l'universite (d'Aberdeen) en 1967, j'ai rencontre entre autres choses, les blues!. D'abord Fleetwood Mac (l'original de Peter Green) et Chickenshack, John Mayall, Cream (Clapton, etc), et puis j'ai commence a explorer le jazz et les blues, arrivant eventuellement a Chicago en ce qui concerne les blues. En fin 1967, avec quelques livres sterling economisees (beaucoup de bieres sacrifiees !), j'ai commande 'Chicago, the Blues Today' en Trois Albums de 33 tours, dans un magasin de disques specialiste, et c'etait, depuis, une de mes possessions la plus cherie. J'ai toujours ces disques au grenier. Heureusement, ils les ont resorti l'anthologie en 1999 sur CD, et je les ai trouve et achete quelques annees plus tard. Je les ai mis tout de suite sur mon ordinateur pour ne pas les abimer en les jouant comme j'ai fait avec mes disques de 33 tours !. Je les ai refait plus tard en flac, Aujourd'hui. Je partage avec vous cette trouvaille de ma jeunesse qui m'a mene sur la route de la decouverte du blues et du jazz.....


Historique de production de l'album

(Google Translate avec des corrections, mais Jolie Candy est encore responsible de quelques fautes de francais !)
Cette version est une réédition de l'album en trois disques de 33t historiques, sorti en 1966 sur le label Vanguard, et c'est une anthologie de Chicago Blues au milieu des années 60. Elle a ete enregistrée et co-produit par l'amateur de blues Sam Charters, qui a déjà travaillé avec des entreprises telles que Folksway et Prestige, principalement spécialisée dans le country-blues. Le fait est que, aux États-Unis meme, le blues a mis au point une situation assez paradoxale: le public noir pour la plupart, a mis l'accent davantage sur d'autres types de musique (en particulier sur le Soul), et les Américains blancs avec un blues contemporain ne connaissaient pas le blues de Chicago, ni du Delta. Grace à la folk revival, lors des festivals spécialisés et les publics étudiants, une demande a ete cree et a ressuscité de l'oubli les blues rural archaïques, maîtres de la demande d'acier de la Delta Blues d'avant-guerre. Réalisant que les Bleus ne se conservent pas l'anachronisme, et continuent à se développer de façon créative, Charters a décidé d'introduire a ses compatriotes l'état actuel des choses, avec l'exemple de la musique de Chicago, l'un des centres de la country blues. Après avoir fait un rencontre dans un des clubs de folk à New York avec le co-propriétaire de la marque Vanguard Maynard Solomon, Charters était bonne. En Décembre 1965, il est allé à Chicago avec le budget de quelques milliers de dollars, qui ont dû louer un studio pour le projet, payer les musiciens, et payer les frais d'expédition. Avec lui, est allé à sa femme, Ann, qui venait de terminer le travail sur son doctorat à l'Université de Columbia. Charters connaissaient la scène blues de Chicago de sa dernière visite à cette ville, et ce n'était pas difficile de s'entendre avec les musiciens. Pour enregistrer a été choisie le studio de grande entreprise de RCA, qui, avant la guerre, avait été utilise pour enregistrer les bluesmen légendaire du label Bluebird.
Charters aimeraient obtenir le son authentique de club, donc toutes les chansons ont été enregistrees en direct, sans overdubs. Alors qu'ils enregistraient, Anne a fait des photographies, aussi bien en studio que dans les clubs et dans les rues de Chicago. Quelques-uns de ces images historiques sont inclus dans une brochure jointe à la présente publication. (Je n'ai pas le brochure, mais j'ai inclus quelues-unes de ses photos)

Le premier disque est consacré aux œuvres de trois artistes: Junior Wells, JBHutto, et Otis Spann.
Né en 1934 à Memphis, Junior Wells était un des plus brillants représentants de la jeune génération d'artistes à l'harmonica. Sur le disque, il démontre le Chicago blues moderne, et l'a accompagné à la guitar, Buddy Guy, un autre jeune talent, et déjà produit à ce moment sur le label Chess légendaire, comme accompagnateur et en tant qu'artiste solo. En 1965, sur le label Delmark, Wells a enregistré son premier LP "Hoodoo Man Blues», qui est devenu un classique du genre. Parmi les chansons qui sont enregistrees ici, tout d'abord, vous devez sélectionner la première piste "Help Me" - un arrangement d'un numero de Sonny Boy Williamson, qui est mort la même année.
Quant à la suite de Wells, JBHutto, le bluesman de 36 ans de la Géorgie était, avec Hound Dog Taylor, l'un des derniers joueurs de guitare slide Chicago éminents. Dans le jeu, il a été remplacé par sa manière d'Elmore James, dont le disciple était. avec son groupe "The Hawks", il a joué dans un trio. Sa musique n'a pas eu une telle élégance et perfection technique que Junior Wells, mais c'était le disque dur eneregetique brut et qui était la marque de l'après-guerre Chicago blues.
Pour terminer le premier disque, Otis Spann, bien sûr, était le plus connu et le plus éminent de tous les artistes figurant dans cette anthologie. Un pianiste brillant, populaire dans les milieux du jazz, grâce à l'album "Otis Spann Is The Blues" en 1961, aussi connu comme l'accompagnateur de longue date, de Muddy Waters, Otis Spann a signé ici en tant qu'artiste solo, un duo avec S.P. Leary, batteur de l'orchestre de Muddy Waters et en tant qu'accompagnateur de James Cotton.
Ouverture du deuxième disque sur James Cotton, harmonica. Aussi, un étudiant Sonny Boy Williamson, Cotton, contrairement a Junior Wells, a joué d'une manière plus traditionnelle, qui a son origine dans le blues rural. Les chartes sont enregistrées, Spann et Cotton il ya un an, pour l'album "Les Blues ne meurent jamais!", Pour lequel il a volé une fois de prestige de l'entreprise, parce que le genre de musique ne correspondait pas à la politique de répertoire de l'étiquette. Ici Cotton a joué son jeu traditionnel comme Muddy Waters lui a permis d'insérer dans leurs performances, tandis qu'il se reposait. Le résultat a été un Chicago blues classique dans le style de Waters, mais pas très 'boueux', qui n'a pas pu prendre part à l'enregistrement en raison de restrictions contractuelles avec l'entreprise Chess.
Suit un guitariste gaucher, Otis Rush, qui représenté la jeune génération de blues de Chicago, et joue de la musique plus contemporaine qui se concentre davantage sur le soul. En dehors de son vieux hit "I Can't Quit You Baby", il a fait quelques instrumentaux brillants, ce qui démontre pleinement sa capacité à virtuose de la guitare.
Pour terminer le deuxieme disque du blues traditionnel, ancienne génération, le guitariste diaporama Homesick James, cousin de Elmore James. Dans son jeu combiné organiquement avec le début du Chicago blues rural archaïque. Accompagné ici de Willie Dixon (basse) et Frank Kirkland (batterie). Charters connaissait déjà James car il etait un des premiers musiciens de Chicago enregistre par lui en Janvier 1964, pour le label Prestige et c'etait l'un des meilleurs, sinon le meilleur album de James "Blues sur le côté sud".
Le finale, le troisième disque de cette anthologie présente le travail des guitaristes Johnny Young et Johnny Shines, ainsi que la meilleure performance à ce moment de l'harmonica à Chicago de Big Walter Horton. En ce qui concerne ce dernier, malgré le talent exceptionnel et son charisme en raison de problèmes de santé causés par la consommation excessive d'alcool. il se produit en solo sur une seule piste, le reste accompagnant les jeunes. Cette chambre capte le duo de deux harmonica - Horton et son disciple et admirateur de Charlie Musselwhite, 21 ans, musicien blanc, qui a bientôt quitté Chicago et est devenu la star de la Californie blues-rock.
Johnny Young et Johnny Shines, les deux porteurs de la Musique Delta introduit dans le milieu urbain. Un mois plus tôt, Young a enregistré son premier album "Johnny Young et son Chicago Blues Band" pour le label Arhoolie, et était pratiquement inconnu en dehors de la scène blues de Chicago. L'originalité de ce musicien était le fait que non seulement il jouait de la guitare, mais aussi mandoline et Charters a fait une bonne affaire à saisir son talent. Johnny Shines, un jeune homme qui a voyagé avec le légendaire Robert Johnson après la guerre, il a continué sa tradition du blues du Delta en cliquant sur la guitare électrique acoustique. En 1965, il est retourné à la scène blues après une pause forcée due aux vibrations de la mode musicale. Là, il a d'abord été enregistrée en mode LP.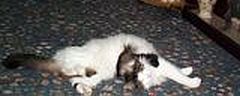 Veuillez cliquer sur 'Voir le NFO' pour voir le 'Tracklist'.